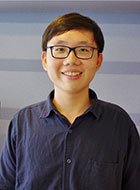 Mr. Pasin Lertvilai (fromThailand)
We went to Fuji-Q Highland, Tokyo Disney Sea and other places on field trips from the Summer Course. The most impressive trip was the Tokyo Bay Cruise. We took a cruise around the Bay of Tokyo wearing yukata and I enjoyed it very much. The Japanese food which I thought delicious was unaju. The restaurant was near Shibuya Station and I would like to go taste it again.
My future plan is to go to the medical college of the Tokyo University and to become a doctor. I would like to come back to Japan after I graduated from the university in Thailand.